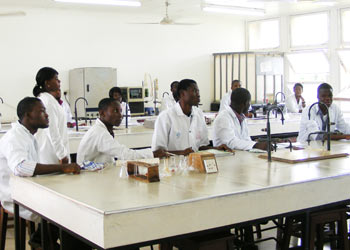 Pharmacognosy, defined as the study of the physical, chemical, biochemical and biological properties of drugs or potential drugs or drug substances of natural origin as well as the search for new drugs from natural sources is a specialized area of applied science which deals with natural products that affect the health of humans and animals.
Due to the widespread use of botanicals in developing as well as their resurgence in industrialized nations, significant concerns have been raised about their quality, safety and efficacy. Pharmacognosy plays a critical role in ensuring the authenticity, purity and consistency of the materials employed in this regard. It contributes significantly to the practice of Pharmacy and Herbal Medicine. The Department of Pharmacognosy offers various courses as part of the 4 year Bachelor of Pharmacy (B.Pharm) and Bachelor of Science in Herbal Medicine (BSc. Herbal Medicine) degree programmes. These courses cover areas in botany and chemistry of medicinal plants, their cultivation and evaluation and their role in promotion and maintenance of health. At the graduate level, the Department also offers research training in various aspects of medicinal plants to its M. Phil and PhD students. Currently there are ten (10) post graduate students: MPhil five (5) and PhD five (5).
Research Areas
Standardization of medicinal plants, phytochemical evaluation of medicinal plants with respect to essential oil constituents and other secondary metabolites, and validation of various herbal remedies. In this regard, medicinal plants with antibacterial, antifungal and antioxidant activities as well as wound healing, antiinflammatory, antidiabetic, antihypertensive, antiasthmatic, anthelmintics, mosquito repellent properties among others have been investigated. Other research areas include vertinary medicine where anti tick agents from indigenous Ghanaian plants are also investigated.
Services
the department offers consultancy services to the, Centre for Scientific Research into Plant Medicine (Mampong-Akuapem), Pharmacy Council, Pharmaceutical Society of Ghana, Food and Drugs Board (FDB)
The department has a Physic garden (botanical garden) in which plants are grown and displayed primarily for scientific and educational purposes. The garden additionally serves the following purposes:
Provision of a readily available source of medicinal plants for use by students for learning
It serves as a cultivated source of plants which may be very sparsely distributed and therefore difficult to come by in large quantities
It also serves as a cultivated source of plants which are becoming extinct or on the verge of extinction
It serves as a source of raw materials for the development of new drugs
It serves as a readily available source of plants for use in research work