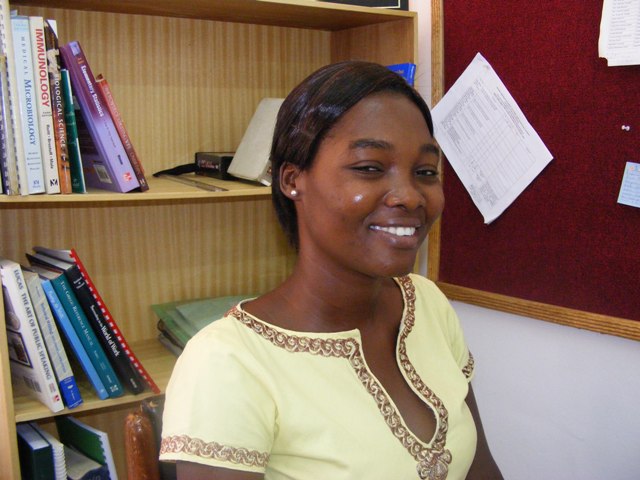 Dr
Dr Mrs. Vivian Etsiapa Boamah
Department
Email
Office-location
Research-areas
Mrs. Vivian Etsiapa Boamah holds a Masters degree in Pharmaceutical Microbiology (November 2009) from the Kwame Nkrumah University of Science and Technology (KNUST), Kumasi, Ghana. She was an undergraduate student at the same University where she completed a Bachelor of Pharmacy degree in May 2005. She later undertook a one-year National Service as a Teaching Assistant at the Department of Pharmaceutics (Microbiology), Faculty of Pharmacy and Pharmaceutical Sciences, College of Health Sciences, KNUST. She worked as a Demonstrator/Research Assistant whilst pursuing her postgraduate degree. Mrs Boamah was appointed Assistant Lecturer in the Department of Pharmaceutics in September 2010. She is the first female lecturer in Pharmaceutical Microbiology in the Faculty of Pharmacy and Pharmaceutical Sciences. Her research interests include Environmental microbiology (water), Evaluation of microbial quality of natural preparations, Antimicrobial properties of natural products and Antibiotic resistance.
Selected list of Publications
Stephen Y Gbedema, Francis Adu, Marcel T Bayor, Vivian E Arhin-Sam, Kofi Annan (2010). In vitro antimicrobial study of the efficacy of a toothpaste formulated from Garcinia kola stem wood extract. International Journal of Pharmacy and Pharmaceutical Sciences 2 (2), 98 - 101.
V. E. Arhin-Sam, K. Boakye-Yiadom, K. Ofori-Kwakye, F. Adu, S. Y. Gbedema (2009). Groundwater quality in some communities in Kumasi, Ghana and the effectiveness of Ten anti-diarrhoeal agents against isolated diarrhoea causing organisms. Book of Abstracts, CPA/PSGH Conference, Accra, 5th - 9th August, 2009.